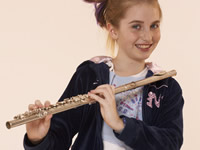 Musical Instrument Lessons at InstrumentLessons.org
Instrumet lessons can begin at absolutely any age, and you are never too old to pick up a new musical instrument, particularly if you know how to read music or have played an instrument before. Many people do not follow their ambition to learn to play an instrument because they do not think they have what it takes to learn how to play. Because you are never too old for instrument lessons, you can easily get started now and learn to play the instrument of your dreams. Younger students taking music lessons may be able to find the memory and dexterity easier, but you still have the advantage of time and dedication to take advantage of.

When it comes to instrument lessons, you can easily learn piano, guitar, woodwinds, violin, cello, drums and numerous other instruments as well. If you have an affinity for music and are interested in taking music lessons, it is never too late for you to get started. Music lessons are available from large schools and private instructors, so matter what you need, there are plenty of options for you to choose from.
Welcome New Companies:



Music House



Music House School is more than just a place to take music lessons. We're a community, founded and operated by professional musicians and educators co...



Overland Park, KS
Latest Reviews:



White House of Music Inc in Watertown, WI
from VICKI B
WE PURCHASED DIGITAL PIANO FROM ANDREW LAST NIGHT AND DIDN'T SEE INSTRUCTION BOOK TO GO WITH THE MACHINE. PLEASE EMAIL ME THAT YOU GOT THIS - CALL 9...Details
From Our Blog:
A Guide to Playing the Violin
Many people have a desire to learn to play the violin. What you may not know is that it is really one of the more difficult instruments to learn how to play. It is also very rewarding once you get used to the techniques that you will be using. There are a lot of things that you will need to learn in the beginning, starting with the correct way to hold the instrument. You will also have to... Continue Reading
Welcome new companies!
Stewart Scott Associates Inc in Poughkeepsie, NY
Moonlite Music Studio in Waynesburg, PA
Music Tree in Los Angeles, CA
S & J Music in Kissimmee, FL
Perez Musical Lessons in North Hollywood, CA
Guitar Institute-Indianapolis in Indianapolis, IN
Classic Guitar Imports in Seal Beach, CA
Conway School of Music in Conway, AR
Anointed Music Academy in Baton Rouge, LA
Kelly Bogan Music Studio in Spokane, WA
Lake Arlington Academy of Music in Trinity, TX
Staten Island Conservatory Of Music in Staten Island, NY
Preston Carol in Damariscotta, ME
Rawson Music CO in Oklahoma City, OK
Babette SOLL in Gresham, OR