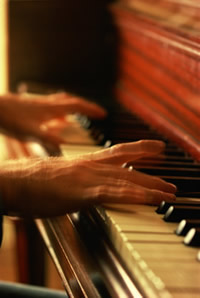 Musical Instrument Lessons at InstrumentLessons.org
Instrumet lessons can begin at absolutely any age, and you are never too old to pick up a new musical instrument, particularly if you know how to read music or have played an instrument before. Many people do not follow their ambition to learn to play an instrument because they do not think they have what it takes to learn how to play. Because you are never too old for instrument lessons, you can easily get started now and learn to play the instrument of your dreams. Younger students taking music lessons may be able to find the memory and dexterity easier, but you still have the advantage of time and dedication to take advantage of.

When it comes to instrument lessons, you can easily learn piano, guitar, woodwinds, violin, cello, drums and numerous other instruments as well. If you have an affinity for music and are interested in taking music lessons, it is never too late for you to get started. Music lessons are available from large schools and private instructors, so matter what you need, there are plenty of options for you to choose from.
Welcome New Companies:



Dave Roth Percussion School



Study drums and percussion with a seasoned pro with over 20 years playing and teaching experience. I have a Masters in Percussion Performance from one...



Astoria, NY
Latest Reviews:



Parramore Pianos in Gainesville, FL
from Jody Parramore - Owner, Parramore Pianos
No one has ever made a complaint directlly to me about Bob Sluss. Bob has been tuning pianos for me since 1992. He is also one of only three piano tec...Details
From Our Blog:
A Guide To Playing The Drums
If you have ever considered playing the drums, but were just not sure how to get started with it, then you may want to follow this guide. Learning to play the drums is not as easy as it seems, in fact there is a lot of detail that goes into it. It is not just a matter of beating on the drums. You have to play with a rhythm, instead of just senseless beating. If you have natural rhythm, you... Continue Reading
Welcome new companies!
Benjamin Smeall Violinist in Green Bay, WI
Utah Conservatory in Park City, UT
Woodruff School of the Arts in Roswell, GA
Conservatory at Wheeler in Providence, RI
Vargas Music in Novato, CA
Broadway Sound in Knoxville, TN
A JS Professional Percussion in Tampa, FL
Northwest Indiana Suzuki Conservatory in Valparaiso, IN
Garden State Academy of Music in Rutherford, NJ
Wehner's School of the Arts in Middleburg, FL
Route 7 Music in Brookfield, CT
Flute Lessons by Melissa Freilich in Fort Washington, PA
Advance Music Studio in Allen, TX
Harmony Project in Los Angeles, CA
Albuquerque Youth Choir in Albuquerque, NM