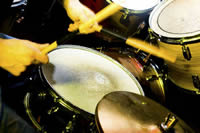 Musical Instrument Lessons at InstrumentLessons.org
Instrumet lessons can begin at absolutely any age, and you are never too old to pick up a new musical instrument, particularly if you know how to read music or have played an instrument before. Many people do not follow their ambition to learn to play an instrument because they do not think they have what it takes to learn how to play. Because you are never too old for instrument lessons, you can easily get started now and learn to play the instrument of your dreams. Younger students taking music lessons may be able to find the memory and dexterity easier, but you still have the advantage of time and dedication to take advantage of.

When it comes to instrument lessons, you can easily learn piano, guitar, woodwinds, violin, cello, drums and numerous other instruments as well. If you have an affinity for music and are interested in taking music lessons, it is never too late for you to get started. Music lessons are available from large schools and private instructors, so matter what you need, there are plenty of options for you to choose from.
Welcome New Companies:



FaillaDrums



Communication is the key to compassion. Rhythm is one language the whole world shares. Music is it's voice. We are all instruments. I facilitate...



Boise, ID
Latest Reviews:



Sarasota Music Center in Sarasota, FL
from SH
Sarasota Music Center has been around sonce 1985..All of their instructors are highly educated and have wonder PROFFESSIONAL backgrounds. I highly re...Details
From Our Blog:
All About Playing The Trombone
A Guide to Playing the Trombone Many people have found great pleasure in learning to play the trombone. The trombone is one of the wind instruments that is also in the brass family. You blow into the instrument to create the desirable sound that you are looking for. You use a slide to create different pitches of the sound that you are making. It is very similar to a trumpet, but also has a... Continue Reading
Welcome new companies!
Music & Arts Centers in Glendale, AZ
Mshs Music Department in Mahomet, IL
University Music Service in Hershey, PA
Roger Sprung Folk Music Studio in Newtown, CT
Davalt Music in Columbus, WI
Kathryn Brickell Music in Glen Cove, NY
Academy of Music at String Connect in Mason, MI
Leesville Music Center in Leesville, LA
Renee Grant-Williams in Nashville, TN
Guitar Lessons from a Pro in Riverside, CA
Terry Clark Dance Centres - Sunnyside Studio in Fresno, CA
North Berkeley Piano Studio in Berkeley, CA
Marjorie Donahue Piano Studio in Akron, OH
Auburn School-Dance & Prfrmng in Auburn, AL
Big Band Nostalgia in Harrisburg, PA