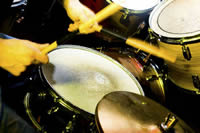 Musical Instrument Lessons at InstrumentLessons.org
Instrumet lessons can begin at absolutely any age, and you are never too old to pick up a new musical instrument, particularly if you know how to read music or have played an instrument before. Many people do not follow their ambition to learn to play an instrument because they do not think they have what it takes to learn how to play. Because you are never too old for instrument lessons, you can easily get started now and learn to play the instrument of your dreams. Younger students taking music lessons may be able to find the memory and dexterity easier, but you still have the advantage of time and dedication to take advantage of.

When it comes to instrument lessons, you can easily learn piano, guitar, woodwinds, violin, cello, drums and numerous other instruments as well. If you have an affinity for music and are interested in taking music lessons, it is never too late for you to get started. Music lessons are available from large schools and private instructors, so matter what you need, there are plenty of options for you to choose from.
Welcome New Companies:



Cain's Music



Ian Cain is an independent guitar instructor in the Pittsburgh area with 36 years of experience playing, performing and teaching. Learning and growing...



Pittsburgh, PA
Latest Reviews:



Lisa Lawson-Violin & Viola in Sacramento, CA
from Nathan C.
I have taken violin lessons from Lisa since 2001 when I was 9 or 10. She has been a great teacher always focused on what my personal needs are - She h...Details
From Our Blog:
A Guide To Playing The Drums
If you have ever considered playing the drums, but were just not sure how to get started with it, then you may want to follow this guide. Learning to play the drums is not as easy as it seems, in fact there is a lot of detail that goes into it. It is not just a matter of beating on the drums. You have to play with a rhythm, instead of just senseless beating. If you have natural rhythm, you... Continue Reading
Welcome new companies!
Jack Eskridge Guitar Studio - Jazz Blues Rock Folk in Walnut Creek, CA
Thomas D Bowler Piano Teacher in Manchester, NH
Express Publishing Inc in Chicago, IL
Twinklers To Sizzlers Suzuki in Chesapeake, VA
Music, Mindfulness & Learning Dr. Daniel Huband in Richmond, VA
Samuel Brodsky in Bainbridge Island, WA
Jammin' Kids in Fort Lauderdale, FL
Malacarne Music in Mamaroneck, NY
Irvine Art & Music in Irvine, CA
Twyman Piano Studio in Oklahoma City, OK
Suzuki Talent Education in Skokie, IL
Carmichael Music Studio in Carmichael, CA
Fontaine Academy of Music in Mountainside, NJ
Thomas Woods Music in Euless, TX
Kerry Henry Piano Studios in Durham, NC