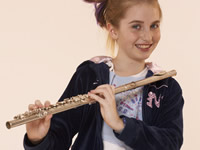 Musical Instrument Lessons at InstrumentLessons.org
Instrumet lessons can begin at absolutely any age, and you are never too old to pick up a new musical instrument, particularly if you know how to read music or have played an instrument before. Many people do not follow their ambition to learn to play an instrument because they do not think they have what it takes to learn how to play. Because you are never too old for instrument lessons, you can easily get started now and learn to play the instrument of your dreams. Younger students taking music lessons may be able to find the memory and dexterity easier, but you still have the advantage of time and dedication to take advantage of.

When it comes to instrument lessons, you can easily learn piano, guitar, woodwinds, violin, cello, drums and numerous other instruments as well. If you have an affinity for music and are interested in taking music lessons, it is never too late for you to get started. Music lessons are available from large schools and private instructors, so matter what you need, there are plenty of options for you to choose from.
Welcome New Companies:



DLLPIANO



Piano Lessons in Humble TX are offered in your home or our studio....



Humble, TX
Latest Reviews:



Jim Terry Music in Palm Harbor, FL
from David W
The best teachers and most helpful store I have ever been in. Just call there or stop in and you will very quickly see what I mean. You do not surviv...Details
From Our Blog:
Learn To Play The Flute
Many people want to pick up a new hobby, and playing a musical instrument may be just what you have in mind. When it comes to choosing a musical instrument, you may want to consider the flute. The flute is one of the most popular instruments to play. It has a nice romantic sound. It is also very lightweight and you can carry it around when you go. It is unlike many of the larger instruments... Continue Reading
Welcome new companies!
Caulfield John & Donna in Colorado Springs, CO
Susan BETZ Music Studio in Ada, MI
Keyboard Conservatory in San Diego, CA
Absolute Music Instruction in Hazlet, NJ
Badog Music in Manchester, PA
Ann Mishler Piano Studio in Bismarck, ND
American Piano Schools in Denver, CO
Sharon Feury's School-Guitar in Roanoke, VA
Mojo's Music in Edwardsville, IL
Japanese Music Institute-Amer in San Francisco, CA
Ciara Music Studio in Methuen, MA
Old Dominion University in Norfolk, VA
Progressive Music Center in Raleigh, NC
First Baptist Church of Plant in Plant City, FL
Yamaha Music Center - Laguna Niguel in Mission Viejo, CA