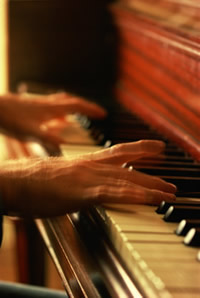 Musical Instrument Lessons at InstrumentLessons.org
Instrumet lessons can begin at absolutely any age, and you are never too old to pick up a new musical instrument, particularly if you know how to read music or have played an instrument before. Many people do not follow their ambition to learn to play an instrument because they do not think they have what it takes to learn how to play. Because you are never too old for instrument lessons, you can easily get started now and learn to play the instrument of your dreams. Younger students taking music lessons may be able to find the memory and dexterity easier, but you still have the advantage of time and dedication to take advantage of.

When it comes to instrument lessons, you can easily learn piano, guitar, woodwinds, violin, cello, drums and numerous other instruments as well. If you have an affinity for music and are interested in taking music lessons, it is never too late for you to get started. Music lessons are available from large schools and private instructors, so matter what you need, there are plenty of options for you to choose from.
Welcome New Companies:



The High Street Music Company



The primary mission of HSMC is to restore the integrity and prosperity of existing cultural arts organizations in Pottstown and raise awareness of the...



Pottstown, PA
Latest Reviews:



Defino School of Dance in Philadelphia, PA
from Carolyn McLeod-Lendvay
I started my dance career in 1970 (Please don't faint!) at age 4.at DeFino Sisters Dance Studio! You can do the math! I'm still dancing with Ladies ...Details
From Our Blog:
A Guide To Playing The Drums
If you have ever considered playing the drums, but were just not sure how to get started with it, then you may want to follow this guide. Learning to play the drums is not as easy as it seems, in fact there is a lot of detail that goes into it. It is not just a matter of beating on the drums. You have to play with a rhythm, instead of just senseless beating. If you have natural rhythm, you... Continue Reading
Welcome new companies!
Stewart Music Center in Saint Augustine, FL
Pauer Sound & Music, Inc in Aberdeen, SD
Staten Island Music School in Staten Island, NY
Woodforest School of Music in Houston, TX
ABCcmusic in Jamaica, NY
Portman's Music Inc in Brunswick, GA
Lexar Media Inc in Fremont, CA
Drum Central in Boise, ID
Barb Gentenbein Piano Studio in Green Bay, WI
Florida Christian College in Kissimmee, FL
Christianson Conservatory of Music in Bismarck, ND
Anne Chamberlain Piano Studio in Cornwall Bridge, CT
Lil' Drummaboy Recordings & The Future Music Academy in Philadelphia, PA
All County Guitar Instruction in Yonkers, NY
Eyeflex Photography Studio in Staten Island, NY