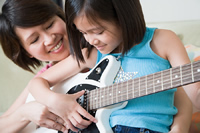 Musical Instrument Lessons at InstrumentLessons.org
Instrumet lessons can begin at absolutely any age, and you are never too old to pick up a new musical instrument, particularly if you know how to read music or have played an instrument before. Many people do not follow their ambition to learn to play an instrument because they do not think they have what it takes to learn how to play. Because you are never too old for instrument lessons, you can easily get started now and learn to play the instrument of your dreams. Younger students taking music lessons may be able to find the memory and dexterity easier, but you still have the advantage of time and dedication to take advantage of.

When it comes to instrument lessons, you can easily learn piano, guitar, woodwinds, violin, cello, drums and numerous other instruments as well. If you have an affinity for music and are interested in taking music lessons, it is never too late for you to get started. Music lessons are available from large schools and private instructors, so matter what you need, there are plenty of options for you to choose from.
Welcome New Companies:



Ruda's violins



My mission is to provide each students with support that enables them to read music within three months! I utilise traditional method combined with Su...



Boca Raton, Fl
Latest Reviews:



Jack Marshall in Kennett Square, PA
from Buddy Yarnall
Jack is the man you need to see if you want to learn how to play music, on any instrument, period. I took guitar lessons from him when I was a beginne...Details
From Our Blog:
Learn To Play The Flute
Many people want to pick up a new hobby, and playing a musical instrument may be just what you have in mind. When it comes to choosing a musical instrument, you may want to consider the flute. The flute is one of the most popular instruments to play. It has a nice romantic sound. It is also very lightweight and you can carry it around when you go. It is unlike many of the larger instruments... Continue Reading
Welcome new companies!
Allegromiami in Miami, FL
Music Factory in Springfield, IL
Baldwin CO Instrument Exchange in Point Clear, AL
Laurie Jircitano's Music STD in Niagara Falls, NY
Willamette Girlchoir in Salem, OR
Lester Music Studios - Scottsdale & Mesa in Paradise Valley, AZ
Creative Exchange Music Therapy in Westchester, IL
Guitar Workshop in Charlotte, NC
The Piano Studio of Linda Belleville in Granger, IN
Eva Donaldson School of Music in Philadelphia, PA
Cunningham Piano Studio in Salem, OR
Peter Scheiner Jazz Piano in Chicago, IL
Foshee Gary in Los Olivos, CA
All About Music in Roanoke, VA
Arruda Music & Accordions in Pawtucket, RI