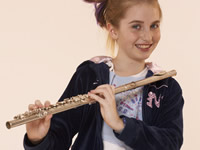 Musical Instrument Lessons at InstrumentLessons.org
Instrumet lessons can begin at absolutely any age, and you are never too old to pick up a new musical instrument, particularly if you know how to read music or have played an instrument before. Many people do not follow their ambition to learn to play an instrument because they do not think they have what it takes to learn how to play. Because you are never too old for instrument lessons, you can easily get started now and learn to play the instrument of your dreams. Younger students taking music lessons may be able to find the memory and dexterity easier, but you still have the advantage of time and dedication to take advantage of.

When it comes to instrument lessons, you can easily learn piano, guitar, woodwinds, violin, cello, drums and numerous other instruments as well. If you have an affinity for music and are interested in taking music lessons, it is never too late for you to get started. Music lessons are available from large schools and private instructors, so matter what you need, there are plenty of options for you to choose from.
Welcome New Companies:



Keith Connor - Violin lessons



I teach violin lessons to children and adults of all ages in the sacramento area. Violin lessons are given at the Pease Conservatory in down town Sacr...



Sacramento, CA
Latest Reviews:



Scott Perro Music Instruction in New Orleans, LA
from Russ B
Scott, you taught two of our boys guitar in the late 80's in Mobile. You also played at several dinners for us. We enjoyed getting to know you and ...Details
From Our Blog:
Mastering The Acoustic Guitar
If you are interested in learning how to play an acoustic guitar, it is important to learn the basics from the get go. You will want to follow some basic instructions that will help you to be a better player. It will also save you a lot of time and frustration in the future as you become a better player. You will first start by learning how to play a few chords, and then you will be able to... Continue Reading
Welcome new companies!
Play Plus in Melbourne, FL
Dylan Nirvana in New York, NY
Bluegrass Shack in New Athens, IL
Central OK Music Teachers Association in Oklahoma City, OK
Colorado Springs Conservatory in Colorado Springs, CO
Bill Schaffer's Drum Shop in Mount Morris, MI
Miller Music Lessons in Farmington, CT
Angelo's Guitar Studio in Midland, MI
Zimmerman Eric and Sheila in Altadena, CA
Olga's Music Studio in North Royalton, Oh
Northern California School of Music in Cupertino, CA
Habilitation Services Inc in Columbus, OH
Gateway To the West Evang in Saint Louis, MO
Aladdin Music Instruction in New Port Richey, FL
Ichimura Music School in Englewood Cliffs, NJ