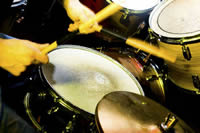 Musical Instrument Lessons at InstrumentLessons.org
Instrumet lessons can begin at absolutely any age, and you are never too old to pick up a new musical instrument, particularly if you know how to read music or have played an instrument before. Many people do not follow their ambition to learn to play an instrument because they do not think they have what it takes to learn how to play. Because you are never too old for instrument lessons, you can easily get started now and learn to play the instrument of your dreams. Younger students taking music lessons may be able to find the memory and dexterity easier, but you still have the advantage of time and dedication to take advantage of.

When it comes to instrument lessons, you can easily learn piano, guitar, woodwinds, violin, cello, drums and numerous other instruments as well. If you have an affinity for music and are interested in taking music lessons, it is never too late for you to get started. Music lessons are available from large schools and private instructors, so matter what you need, there are plenty of options for you to choose from.
Welcome New Companies:



Bach to Rock Music Lessons



Conveniently located to many subdivisions in Sugar Land, Southwest Freeway at Crabb River Road, we teach piano, guitar, violin, voice and have a music...



Sugar Land, TX
Latest Reviews:



Kenny Smith Music in Port Charlotte, fl
from charlie r
kenny is this the kenny who was my teacher in portcharlotte...this the charlie who was into Prince big time...Details
From Our Blog:
Learning On A Trumpet
Many people love playing the trumpet, and there are even more people that wish that they knew how to play. When you are considering learning to play, you may want to keep a few things in mind. First of all, you need to learn how to actually make the trumpet produce sound. Once you understand this concept, you will want to learn how to play actual notes on it. You may feel that you already... Continue Reading
Welcome new companies!
Stellar Guitar Instruction in Dublin, OH
Kim Wood Sandusky Vocal in Nashville, TN
Midlakes Music in Phelps, NY
Gymboree in Plymouth, MA
Murphy's Musicians in Peterborough, NH
Buzzy Orange Studio of Voice in Nashville, TN
Len Rhodes-Music in Colorado Springs, CO
Gregg Kingsolver Blues Boogie in West Palm Beach, FL
University Music in Fort Lauderdale, FL
Feldman Chamber Music Society in Norfolk, VA
Art-Form Piano Tuning & Repair in Silver Spring, MD
ROCK U 2 The Ocean Springs Academy of Popular Music in Ocean Springs, MS
Garin Piano Studio in Kenosha, WI
Institute of Blues Guitar 8T Music Store in Saint Louis, MO
Rumble Seat Music in Brooklyn, NY