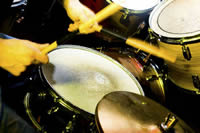 Musical Instrument Lessons at InstrumentLessons.org
Instrumet lessons can begin at absolutely any age, and you are never too old to pick up a new musical instrument, particularly if you know how to read music or have played an instrument before. Many people do not follow their ambition to learn to play an instrument because they do not think they have what it takes to learn how to play. Because you are never too old for instrument lessons, you can easily get started now and learn to play the instrument of your dreams. Younger students taking music lessons may be able to find the memory and dexterity easier, but you still have the advantage of time and dedication to take advantage of.

When it comes to instrument lessons, you can easily learn piano, guitar, woodwinds, violin, cello, drums and numerous other instruments as well. If you have an affinity for music and are interested in taking music lessons, it is never too late for you to get started. Music lessons are available from large schools and private instructors, so matter what you need, there are plenty of options for you to choose from.
Welcome New Companies:



Steve Roth's DrumSet4u - Drum Lessons



Got Rhythm? Currently play the drums or always wanted to play but never took the step forward to learn. Well, here's your chance. If you're a novice...



Van Nuys, CA
Latest Reviews:



Frances Crumbaker Piano Studio in Riverside, CA
from Carol Christy
Outstanding work in the area of piano recitals. She iworks well with children from ages 5 through Adult and K through 8th grade. She is the best ii...Details
From Our Blog:
Learn To Play The Flute
Many people want to pick up a new hobby, and playing a musical instrument may be just what you have in mind. When it comes to choosing a musical instrument, you may want to consider the flute. The flute is one of the most popular instruments to play. It has a nice romantic sound. It is also very lightweight and you can carry it around when you go. It is unlike many of the larger instruments... Continue Reading
Welcome new companies!
Guitar Lessons by Catherine in Anchorage, AK
Lafayette Music Center in Pleasant Hill, CA
Brighton Music Center in New Brighton, PA
Bolles Solo Guitar & Flute Duo in Saint Louis, MO
Jordan Kitts Music in College Park, MD
INET Productions in Mattapan, MA
Musical Resource in Canaan, IN
Berkley Music in Berkley, MI
Boling Piano Studio in Antioch, TN
Kathleen Kristensen Piano in Salt Lake City, UT
The Rhythm Section in Schenectady, NY
Allegro Piano Instruction in San Marcos, CA
Floyd Music School in Floyd, VA
Private School of Music in Cincinnati, OH
Studio 3 Piano in Lodi, ca