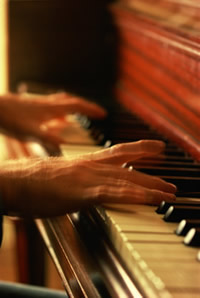 Musical Instrument Lessons at InstrumentLessons.org
Instrumet lessons can begin at absolutely any age, and you are never too old to pick up a new musical instrument, particularly if you know how to read music or have played an instrument before. Many people do not follow their ambition to learn to play an instrument because they do not think they have what it takes to learn how to play. Because you are never too old for instrument lessons, you can easily get started now and learn to play the instrument of your dreams. Younger students taking music lessons may be able to find the memory and dexterity easier, but you still have the advantage of time and dedication to take advantage of.

When it comes to instrument lessons, you can easily learn piano, guitar, woodwinds, violin, cello, drums and numerous other instruments as well. If you have an affinity for music and are interested in taking music lessons, it is never too late for you to get started. Music lessons are available from large schools and private instructors, so matter what you need, there are plenty of options for you to choose from.
Welcome New Companies:



Progressions Music Studio



If you had taken lessons off of Mozart, you would have sat in a room and listened to someone tell you how to play your instrument. You would have lea...



Cranberry Twp, PA
Latest Reviews:



E3 Performing Arts in Bakersfield, CA
from Kelli
i went here when i was little! im now 15, but i went to this school when i was little! i loved it! so many doors are open after this school! its amazi...Details
From Our Blog:
Start Playing The Saxophone
The saxophone is a great instrument to learn, and you will soon find that it is really fun. When you are successful at learning to play, you will even find a great sense of accomplishment. There are a few different types of sax instruments for you to choose from. While there are a few different types, it does not really matter which one you choose when you are first getting started. You can... Continue Reading
Welcome new companies!
DMG Music in Egg Harbor Township, NJ
Expressions Violin & Piano in Kenosha, WI
Music for All in Fort Lauderdale, FL
Rawson Music CO in Oklahoma City, OK
Comtemporary Keyboardist in Valley Village, CA
Guitar Instruction in Pasadena, CA
Moss A in Cincinnati, OH
Rivendell Music Academy in Eagle, ID
Netzows Piano Music Plus in Milwaukee, WI
Howard Blank Drum Lessons in San Diego, CA
Michael Mc Givern's Gumbo in Jackson, MI
Guitar Shop in Greenwich, CT
North American in Dallas, TX
Thornburgh Vocal Studio in San Diego, CA
Honett Piano Studio in Plano, TX