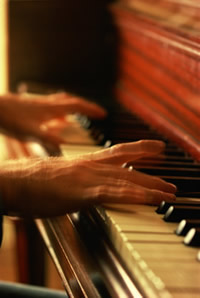 Musical Instrument Lessons at InstrumentLessons.org
Instrumet lessons can begin at absolutely any age, and you are never too old to pick up a new musical instrument, particularly if you know how to read music or have played an instrument before. Many people do not follow their ambition to learn to play an instrument because they do not think they have what it takes to learn how to play. Because you are never too old for instrument lessons, you can easily get started now and learn to play the instrument of your dreams. Younger students taking music lessons may be able to find the memory and dexterity easier, but you still have the advantage of time and dedication to take advantage of.

When it comes to instrument lessons, you can easily learn piano, guitar, woodwinds, violin, cello, drums and numerous other instruments as well. If you have an affinity for music and are interested in taking music lessons, it is never too late for you to get started. Music lessons are available from large schools and private instructors, so matter what you need, there are plenty of options for you to choose from.
Welcome New Companies:



Hetzler's Music



Early Beginner through Advanced Intermediate level instruction in piano, acoustic guitar, fiddle, mandolin and tenor banjo....



Hudson, MA
Latest Reviews:



Natalie Cox Rhythm for Peace in Lawrence, KS
from Natalie Cox
Anyone that is concerned about photos or knowing my address, please call 785-842-9219. At the beginning of the internet, I was instructed to keep pho...Details
From Our Blog:
Learning To Play The Clarinet
A Guide to Playing the Clarinet Many people choose the clarinet when they want to learn to play a new musical instrument. It is a woodwind instrument and it is one of the most popular instruments out there. Many people play it in marching bands and other types of bands. One common reason that people choose this instrument is because it is one of the easier instruments to learn to play. It... Continue Reading
Welcome new companies!
Moondog Studios in Alameda, CA
Rabbitt's Violin Shop in Eau Claire, WI
Cool Metro Rehearsals in Chicago, IL
Yadevia Doug - Tuning Repair Lessons 30YRS EXP in Aldan, PA
Ron Teixeira in Cocoa Beach, FL
Piano Guitar & Voice Lessons in Oak Park, CA
Academy of Music at String Connect in Mason, MI
Columbia Music School & Fine in Kennewick, WA
Chamber Music Society of Oregon in Portland, OR
Music Mastro in Bensalem, PA
Halel Entertainment in Inglewood, CA
Musicianpoint.com in Wylie, TX
NOTA Music World in Newark, CA
Nelson Floor Service in Reno, NV
Lady Victoria Academy of Vocal Training in Jefferson, NC