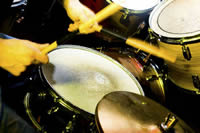 Musical Instrument Lessons at InstrumentLessons.org
Instrumet lessons can begin at absolutely any age, and you are never too old to pick up a new musical instrument, particularly if you know how to read music or have played an instrument before. Many people do not follow their ambition to learn to play an instrument because they do not think they have what it takes to learn how to play. Because you are never too old for instrument lessons, you can easily get started now and learn to play the instrument of your dreams. Younger students taking music lessons may be able to find the memory and dexterity easier, but you still have the advantage of time and dedication to take advantage of.

When it comes to instrument lessons, you can easily learn piano, guitar, woodwinds, violin, cello, drums and numerous other instruments as well. If you have an affinity for music and are interested in taking music lessons, it is never too late for you to get started. Music lessons are available from large schools and private instructors, so matter what you need, there are plenty of options for you to choose from.
Welcome New Companies:



Performing Talents



I offer violin lessons following the suzuki method for beginner to intermediate levels of all ages. I also perform at weddings, and special events thr...



Greenfield Center, NY
Latest Reviews:



Country String Shop in Campbelltown, PA
from Tricia Hall
Robert complete refurbished my Grandfather's violin for me and it turned out beautifully. Robert made a lap harp for me and I love it. I've taken les...Details
From Our Blog:
Learn To Play The Flute
Many people want to pick up a new hobby, and playing a musical instrument may be just what you have in mind. When it comes to choosing a musical instrument, you may want to consider the flute. The flute is one of the most popular instruments to play. It has a nice romantic sound. It is also very lightweight and you can carry it around when you go. It is unlike many of the larger instruments... Continue Reading
Welcome new companies!
Merritt's Music Service in millville, nj
Piano and Violin Lessons in Home Studio in Gainesville, VA
Bob's Music World in Fayetteville, PA
EXUM Studio of Guitar in Waco, TX
Yelena Martinez in Osseo, MN
Creative Music Learning Center in Greenacres, WA
Nurturing Families LLC in Port Angeles, WA
Elaine Rowell in York, PA
Music & Arts Center - Market Plaza, Marietta in Marietta, GA
Barbara Ann Fogle Piano Studio in Little Rock, AR
Jc Music LLC in Meriden, CT
Sandy's Piano Studio in Pleasanton, CA
Houser's Music in Oroville, CA
SJG School of Music in Campbell, CA
Irena Bolza-Schunemann Piano in Bloomington, IN