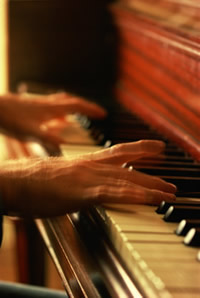 Musical Instrument Lessons at InstrumentLessons.org
Instrumet lessons can begin at absolutely any age, and you are never too old to pick up a new musical instrument, particularly if you know how to read music or have played an instrument before. Many people do not follow their ambition to learn to play an instrument because they do not think they have what it takes to learn how to play. Because you are never too old for instrument lessons, you can easily get started now and learn to play the instrument of your dreams. Younger students taking music lessons may be able to find the memory and dexterity easier, but you still have the advantage of time and dedication to take advantage of.

When it comes to instrument lessons, you can easily learn piano, guitar, woodwinds, violin, cello, drums and numerous other instruments as well. If you have an affinity for music and are interested in taking music lessons, it is never too late for you to get started. Music lessons are available from large schools and private instructors, so matter what you need, there are plenty of options for you to choose from.
Welcome New Companies:



SoundLife Musc Academy



SoundLife Music Academy is a Los Angeles music school built from a collective of world class musicians working together to create a higher standard of...



Los Angeles, CA
Latest Reviews:



Hall's Family Musik in Spring, TX
from Doug B
This is the only place my son Sean wanted to take his alto sax for repairs and tune ups. The significance of this is how particular he was. Sean was...Details
From Our Blog:
A Guide to Playing the Violin
Many people have a desire to learn to play the violin. What you may not know is that it is really one of the more difficult instruments to learn how to play. It is also very rewarding once you get used to the techniques that you will be using. There are a lot of things that you will need to learn in the beginning, starting with the correct way to hold the instrument. You will also have to... Continue Reading
Welcome new companies!
Peter Hostage Music Lessons in Londonderry, NH
Collichio School of Music in Webster, NY
Making It Happen School-Music in Fort Lauderdale, FL
Marshall Music CO in Troy, MI
Creative Endeavors in Bedminster, NJ
Adams Music Conservatory in Los Angeles, CA
Keyboard Learning Center in Vienna, VA
Donnie Patrick's Guitar Studio in Rock Hill, SC
YUFE Natasha in San Luis Obispo, CA
Levine School of Music in Washington, DC
Sandusky Elizabeth Libby CLA in Seattle, WA
Rollo Fine Arts in Port Orchard, WA
Andy's Family Music Center in Livingston, NJ
Sonata Studios in Fortville, IN
Gymboree Play & Music Center in Brentwood, TN