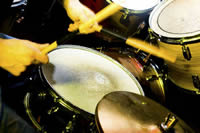 Musical Instrument Lessons at InstrumentLessons.org
Instrumet lessons can begin at absolutely any age, and you are never too old to pick up a new musical instrument, particularly if you know how to read music or have played an instrument before. Many people do not follow their ambition to learn to play an instrument because they do not think they have what it takes to learn how to play. Because you are never too old for instrument lessons, you can easily get started now and learn to play the instrument of your dreams. Younger students taking music lessons may be able to find the memory and dexterity easier, but you still have the advantage of time and dedication to take advantage of.

When it comes to instrument lessons, you can easily learn piano, guitar, woodwinds, violin, cello, drums and numerous other instruments as well. If you have an affinity for music and are interested in taking music lessons, it is never too late for you to get started. Music lessons are available from large schools and private instructors, so matter what you need, there are plenty of options for you to choose from.
Welcome New Companies:



James' Music Studio



James A. Weinberg (Master of Music Education, Belmont University) offers lessons in Middle Tennessee. All skill levels and ages. Specializing in begin...



Franklin, TN
Latest Reviews:



Troy Price Music (www.troyprice.com) in Gardner, MA
from Mark M.
As a parent of a student of Troys I would just like to say that there is no better person I know of to teach. The skills, patience and dedication he h...Details
From Our Blog:
Mastering The Acoustic Guitar
If you are interested in learning how to play an acoustic guitar, it is important to learn the basics from the get go. You will want to follow some basic instructions that will help you to be a better player. It will also save you a lot of time and frustration in the future as you become a better player. You will first start by learning how to play a few chords, and then you will be able to... Continue Reading
Welcome new companies!
Hammond Music & Sound LLC in Hammond, LA
Wren Song Vocal Studio in Dickinson, ND
Kevin Jacobs Piano School in Valatie, NY
Melody B Gocher Piano Teacher in East Amherst, NY
Kindermusik by Heidi Hibma in Sioux Center, IA
Jane E Mc Neal in Millville, NJ
Almaden School of Music Art in San Jose, CA
Newton Music Academy in Needham, MA
Music School in Tujunga, CA
Marsh School of Music in Virginia Beach, VA
Yamaha Music Education DIV in Buena Park, CA
Band Factory in Sonora, CA
Vocal Workshop in La Habra, CA
Percussion Central in Allentown, PA
All About Music in Roanoke, VA