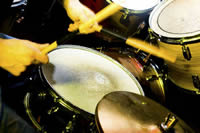 Musical Instrument Lessons at InstrumentLessons.org
Instrumet lessons can begin at absolutely any age, and you are never too old to pick up a new musical instrument, particularly if you know how to read music or have played an instrument before. Many people do not follow their ambition to learn to play an instrument because they do not think they have what it takes to learn how to play. Because you are never too old for instrument lessons, you can easily get started now and learn to play the instrument of your dreams. Younger students taking music lessons may be able to find the memory and dexterity easier, but you still have the advantage of time and dedication to take advantage of.

When it comes to instrument lessons, you can easily learn piano, guitar, woodwinds, violin, cello, drums and numerous other instruments as well. If you have an affinity for music and are interested in taking music lessons, it is never too late for you to get started. Music lessons are available from large schools and private instructors, so matter what you need, there are plenty of options for you to choose from.
Welcome New Companies:



Olga's Music Studio



Olga's Music Studio was registered with Ohio Federation of Music Clubs in 2001. The Studio provides the lessons in Piano, Voice and Theory for all ag...



North Royalton, Oh
Latest Reviews:



Tammie's Music Studio in Mesa, AZ
from Sheena C
I am so grateful for Tammie's Music Studio! Tammie is the best piano teacher I've ever had. It's so rare to find piano lessons that are a both serious...Details
From Our Blog:
Mastering The Acoustic Guitar
If you are interested in learning how to play an acoustic guitar, it is important to learn the basics from the get go. You will want to follow some basic instructions that will help you to be a better player. It will also save you a lot of time and frustration in the future as you become a better player. You will first start by learning how to play a few chords, and then you will be able to... Continue Reading
Welcome new companies!
Music Studio in Diamondhead, MS
Academy Music Studios in Cleveland, OH
Licensed Simply Music Teacher in Livermore, CA
Ehrmantraut's Academy-Martial in Bismarck, ND
Olga's Music Studio in North Royalton, Oh
Music & Arts Center in Mesa, AZ
Classical Guitar Studio in Montclair, NJ
Music & More Champlain Center in Plattsburgh, NY
DMG Music in Egg Harbor Township, NJ
St Joseph School of Music in Saint Paul, MN
Douglas Susu-Mago in Evanston, IL
Crescendo Music Studio in Columbus, OH
National Guitar Summer Wkshp in Litchfield, CT
Stellar Guitar Instruction in Dublin, OH
Portsmouth Center for Yoga in Portsmouth, NH