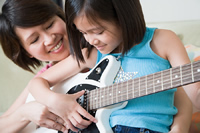 Musical Instrument Lessons at InstrumentLessons.org
Instrumet lessons can begin at absolutely any age, and you are never too old to pick up a new musical instrument, particularly if you know how to read music or have played an instrument before. Many people do not follow their ambition to learn to play an instrument because they do not think they have what it takes to learn how to play. Because you are never too old for instrument lessons, you can easily get started now and learn to play the instrument of your dreams. Younger students taking music lessons may be able to find the memory and dexterity easier, but you still have the advantage of time and dedication to take advantage of.

When it comes to instrument lessons, you can easily learn piano, guitar, woodwinds, violin, cello, drums and numerous other instruments as well. If you have an affinity for music and are interested in taking music lessons, it is never too late for you to get started. Music lessons are available from large schools and private instructors, so matter what you need, there are plenty of options for you to choose from.
Welcome New Companies:



Orpheus Academy of Music



Orpheus Academy of Music is a classical music academy in Northwest Austin that provides a musical learning environment that is nurturing and professio...



Austin, TX
Latest Reviews:



Jack Marshall in Kennett Square, PA
from Julie T
A while back we lived in Pennsylvania and Jack gave piano lessons to my daughter. He was terrific. He made learning the piano so much fun for her. ...Details
From Our Blog:
Learn To Play The Flute
Many people want to pick up a new hobby, and playing a musical instrument may be just what you have in mind. When it comes to choosing a musical instrument, you may want to consider the flute. The flute is one of the most popular instruments to play. It has a nice romantic sound. It is also very lightweight and you can carry it around when you go. It is unlike many of the larger instruments... Continue Reading
Welcome new companies!
Bay Area Guitar Lessons in San Francisco, CA
Valley Conservatory in Huntsville, AL
Sharon Dee Strings in Bloomington, MN
Amato Pied Piper Music & Dance in Saint Clair Shores, MI
Golden West Music Studios in Glendale, AZ
Randy's Music Mart & Professional Audio in Amarillo, TX
McKimmey John in Greenwood, IN
Awesome Music in Lynn Haven, FL
Asian Sweet Massage in Davis, CA
Third Stream Music in Bulverde, TX
Rodgers Church Organs in Germantown, TN
Awesome Guitar Lessons with Mikial Robertson in Anderson, in
Simply Music LLC in Sacramento, CA
DONT Fret Guitar Instruction in Saint Petersburg, FL
Oregon Children's Choir in Eugene, OR