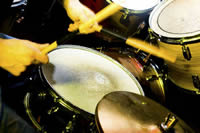 Musical Instrument Lessons at InstrumentLessons.org
Instrumet lessons can begin at absolutely any age, and you are never too old to pick up a new musical instrument, particularly if you know how to read music or have played an instrument before. Many people do not follow their ambition to learn to play an instrument because they do not think they have what it takes to learn how to play. Because you are never too old for instrument lessons, you can easily get started now and learn to play the instrument of your dreams. Younger students taking music lessons may be able to find the memory and dexterity easier, but you still have the advantage of time and dedication to take advantage of.

When it comes to instrument lessons, you can easily learn piano, guitar, woodwinds, violin, cello, drums and numerous other instruments as well. If you have an affinity for music and are interested in taking music lessons, it is never too late for you to get started. Music lessons are available from large schools and private instructors, so matter what you need, there are plenty of options for you to choose from.
Welcome New Companies:



Core Productions



Core Productions wants you! If you are striving to learn more about music and drama for performing or fun Check out Core Productions. The R&H Studi...



Williamsburg, VA
Latest Reviews:



Doc Stone School of Music in Dickson, TN
from Bart allen
We love ya sir. This is Cory allens dad. He is getting married July 2nd in cookeville. He thinks you are awesome and would never Ask but it would be...Details
From Our Blog:
Learn To Play The Flute
Many people want to pick up a new hobby, and playing a musical instrument may be just what you have in mind. When it comes to choosing a musical instrument, you may want to consider the flute. The flute is one of the most popular instruments to play. It has a nice romantic sound. It is also very lightweight and you can carry it around when you go. It is unlike many of the larger instruments... Continue Reading
Welcome new companies!
Matthew Ocone Guitar Studio in Spencer, NY
Zimmerman Eric and Sheila in Altadena, CA
Drum & Guitar Workshop in Stephens City, VA
Serverance Fresno Ballet in Fresno, CA
Gymboree in Acton, MA
Suzuki Violin Program Talent Education Center of Orange County in Irvine, CA
Melody Makers Inc in Lynchburg, VA
Gregg Kingsolver Blues Boogie in West Palm Beach, FL
Banjobanjo in Arlington, VA
Strings & Things Guitar Bass in Chicago, IL
De Rossi Music School in New Bedford, MA
Red Barn in Tucson, AZ
Music Music Studio in Los Angeles, CA
Arti-St Music Education Center in Perry Hall, MD
Zoe Music Studios in Santa Ana, CA