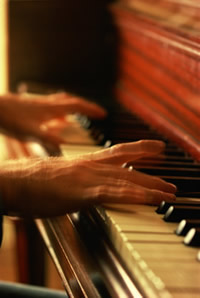 Musical Instrument Lessons at InstrumentLessons.org
Instrumet lessons can begin at absolutely any age, and you are never too old to pick up a new musical instrument, particularly if you know how to read music or have played an instrument before. Many people do not follow their ambition to learn to play an instrument because they do not think they have what it takes to learn how to play. Because you are never too old for instrument lessons, you can easily get started now and learn to play the instrument of your dreams. Younger students taking music lessons may be able to find the memory and dexterity easier, but you still have the advantage of time and dedication to take advantage of.

When it comes to instrument lessons, you can easily learn piano, guitar, woodwinds, violin, cello, drums and numerous other instruments as well. If you have an affinity for music and are interested in taking music lessons, it is never too late for you to get started. Music lessons are available from large schools and private instructors, so matter what you need, there are plenty of options for you to choose from.
Welcome New Companies:



Lawrence Duff



I teach all ages from 6 years and above. I have been teaching for over 22 years. My goal is to work with you in encouraging your talent and love of m...



Santa Barbara, Ca
Latest Reviews:



Larry PINO Studio in Salt Lake City, UT
from Mary W
I have never met a more patient instructor who really cares about the student You can tell his caring comes from the heart. I wish I would have know...Details
From Our Blog:
Learning On A Trumpet
Many people love playing the trumpet, and there are even more people that wish that they knew how to play. When you are considering learning to play, you may want to keep a few things in mind. First of all, you need to learn how to actually make the trumpet produce sound. Once you understand this concept, you will want to learn how to play actual notes on it. You may feel that you already... Continue Reading
Welcome new companies!
Wausau Music Center Inc in Wausau, WI
The Queens Dance School in Flushing, NY
Natasha YUFE in Nipomo, CA
RAK Sheryl in Chicago, IL
Steve Somers Band in Ypsilanti, MI
Draisen-Edwards New School in Lilburn, GA
Oshkosh School of Music in Oshkosh, WI
Mills Music Inc in Issaquah, WA
Door To Music in Cazenovia, NY
Bucks County Folk Music in Doylestown, PA
New York Piano Academy in New York, NY
Carmel Academy of Performing Arts in Carmel By The Sea, CA
Music & Arts Center in Jacksonville, FL
Magicmusic.Com in Dallas, TX
Jerry Bragin Vocal Coach in W Hempstead, NY