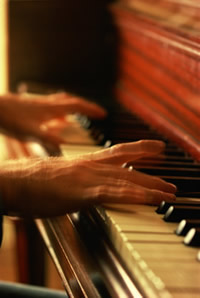 Musical Instrument Lessons at InstrumentLessons.org
Instrumet lessons can begin at absolutely any age, and you are never too old to pick up a new musical instrument, particularly if you know how to read music or have played an instrument before. Many people do not follow their ambition to learn to play an instrument because they do not think they have what it takes to learn how to play. Because you are never too old for instrument lessons, you can easily get started now and learn to play the instrument of your dreams. Younger students taking music lessons may be able to find the memory and dexterity easier, but you still have the advantage of time and dedication to take advantage of.

When it comes to instrument lessons, you can easily learn piano, guitar, woodwinds, violin, cello, drums and numerous other instruments as well. If you have an affinity for music and are interested in taking music lessons, it is never too late for you to get started. Music lessons are available from large schools and private instructors, so matter what you need, there are plenty of options for you to choose from.
Welcome New Companies:



Ace Music



Established in 2010 in Newville, PA, and moved to Shippensburg in April 2015. We have established a specialization in the sales, service, and the teac...



Shippensburg, PA
Latest Reviews:



Stonegrove Guitar in La Grange, IL
from Lia
It ranges from $20.00 to $25.00 for each 3 minute session depending on level and instructor....Details
From Our Blog:
Learn To Play The Flute
Many people want to pick up a new hobby, and playing a musical instrument may be just what you have in mind. When it comes to choosing a musical instrument, you may want to consider the flute. The flute is one of the most popular instruments to play. It has a nice romantic sound. It is also very lightweight and you can carry it around when you go. It is unlike many of the larger instruments... Continue Reading
Welcome new companies!
Leander School of Music in Leander, TX
Jerry's Guitar Shop in Philadelphia, PA
Vasaboo Productions in Columbia, SC
Northeastern Wisconsin Talent in Green Bay, WI
The Neighborhood Music School in Los Angeles, CA
Leander School of Music in Cedar Park, TX
Arts Umbrella Inc-Cpas in Eugene, OR
Snap Snap Drive LLC in Augusta, GA
Jared Lawson Piano & Flute STD in Thousand Oaks, CA
Guitar Lessons in Miami, FL
California Drum Shop in Bethlehem, PA
Woody's Music in Rock Hill, SC
Music School of the RI Philharmonic Barrington in Barrington, RI
Soundboard Music Studios in Indianapolis, IN
Qualified Instructions in Narrows, VA