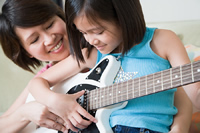 Musical Instrument Lessons at InstrumentLessons.org
Instrumet lessons can begin at absolutely any age, and you are never too old to pick up a new musical instrument, particularly if you know how to read music or have played an instrument before. Many people do not follow their ambition to learn to play an instrument because they do not think they have what it takes to learn how to play. Because you are never too old for instrument lessons, you can easily get started now and learn to play the instrument of your dreams. Younger students taking music lessons may be able to find the memory and dexterity easier, but you still have the advantage of time and dedication to take advantage of.

When it comes to instrument lessons, you can easily learn piano, guitar, woodwinds, violin, cello, drums and numerous other instruments as well. If you have an affinity for music and are interested in taking music lessons, it is never too late for you to get started. Music lessons are available from large schools and private instructors, so matter what you need, there are plenty of options for you to choose from.
Welcome New Companies:



BADOG Music



We offer personal one-on-one lessons in guitar, drums, bass, strings, piano, brass, and more--all in addition to our musical instrument shop!...



Manchester, PA
Latest Reviews:



Hall's Family Musik in Spring, TX
from Doug B
This is the only place my son Sean wanted to take his alto sax for repairs and tune ups. The significance of this is how particular he was. Sean was...Details
From Our Blog:
Mastering The Acoustic Guitar
If you are interested in learning how to play an acoustic guitar, it is important to learn the basics from the get go. You will want to follow some basic instructions that will help you to be a better player. It will also save you a lot of time and frustration in the future as you become a better player. You will first start by learning how to play a few chords, and then you will be able to... Continue Reading
Welcome new companies!
Sam Ulano in New York, NY
Wilson Music Studio in Elk City, OK
Play Music Service in Boynton Beach, FL
Hebert Piano Service in Monrovia, CA
KYRA Clements Piano Studio in Harriman, TN
Guido's Music in Hickory Hills, IL
Absolute Art & Music in Louisville, KY
Birmingham-Southern College - Theatre Box Office in Birmingham, AL
Do It Up Performing Arts Center in Merrick, NY
Peggy Still School of Music in Alpharetta, GA
Heart Consort Music in Mount Vernon, IA
The Classic Machine in Chula Vista, CA
Edward Rossman's Studio Of Singing And Keyboard Instruction in Albany, NY
Sacramento Performing Arts Center in Sacramento, CA
Hot Strings Guitar Shop in Milford, CT